July 18, 2006 – Just imagine you could store the content of 8600 CDs or 1400 DVDs on your desktop computer to get the most vivid and intriguing results. Movies, videos and also music are increasingly becoming better in quality but their file size is getting bigger at the same time too. Therefore the demanding media connoisseur demands a super fast data transfer rate and megastorage capacity.
Especially hardcore gamers and digital media content managers feel very strong in need of such a platform. abit listened to their needs, and therefore introduced the abit AB9 PRO motherboard. This board offers room for up to 9 hard drives, that can potentially give you a storage capacity of up to whooping 6.0 TB (6000GB). That is the equivalent of 8571 CDs or 1395 DVDs. So there will be no more need for data compression of videos and audio, that would result in highly reduced quality.
To prove the effectiveness and test the ultimate storage capacity on this motherboard, we installed the largest hard drives currently available on the market. Such a super fast megastorage system should be able to convince even the most demanding users. Our test system consisted of an abit AB9 PRO motherboard with 9 Seagate ST3750640AS 750GB SATAII hard drives in a RAID 0 array split into 3 partitions each 2.0TB (2000GB) of size, thereby reaching a total storage capacity of 6.0TB (6000GB). With a data transfer rate of 368.3MB/s our test system is even faster than a server grade SCSI Ultra 320 interface system.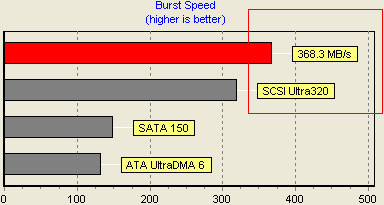 The abit AB9 PRO features 9 SATA ports with 3Gb/s data transfer rate to satisfy even the most storage hungry demands. The onboard JMicron® JMB363 microchip offers support for RAID 0/1/JBOD, and the Intel® Southbridge ICH8R is quipped with the Intel® Matrix Storage Technology (AHCI & RAID0/1/5/10). Real gamers as well as experts can't afford to miss out on this fully featured and highly efficient motherboard!
For more information on the abit AB9 Pro, go here: Universal abit AB9 Pro
For more information on Seagate H.D.D., go here:
http://www.seagate-asia.com/seagatefiles/taiwan/pdf/PO_Barracuda7200.10_TC.pdf